The day we closed on the farm and got the keys, a tree fell into one of the southern fields, near the driveway.  We'd already scheduled two trees, near the house, to be removed in order to prepare the yard for re-grading (necessary to divert water from entering the basement). Once the trees are removed, the next step is foundation reinforcement under the kitchen, regrading the yard to create a swale around the home, and fill in the old 'wine cellar.' (Photos on that to come!)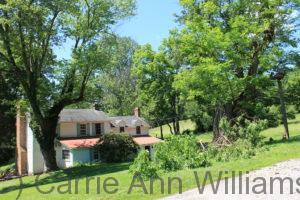 Big Rick's Tree Service was scheduled do come out the following Friday, after our closing, to remove the two trees we planned. Between closing and their scheduled date, a micro-burst thunderstorm moved through the area while we were at dinner in Baltimore.
The tree that fell near the driveway was actually hugging two other trees. The micro-burst took out the other two, knocking one across the driveway and the other across the southern field. The same storm caused a large branch on one tree we'd planned to remove to fall as well.
Big Rick's team was able to remove the two trees as planned, AND the three fallen trees for us at the same time. With about 14 wooded acres on this farm, we'll probably be seeing him again!