Built as an addition to the chink-log cabin, what is currently the kitchen and stone foyer, was likely added in the 1930s or 1940s.  When we first came to the farm as prospective buyers, we noted the basement was unique. Part of it is the original, stone foundation, while under the living room and kitchen, it is a mix of poured footers on top of block.  The rooms were all connected, a bit of a rabbit's warren.  Additionally, we also noticed an old wooden door, cut into the block wall underneath the kitchen. Opening the door led into an earthen room previously used as a 'wine cellar,' the pathway and room both hand-dug by the previous owners.
Our building inspector and structural engineering consultant assessed the existing CMU wall under the kitchen as undersized for the weight it was supporting under the original footer. Upstairs the uneven floor in the kitchen confirmed the wall needed to be reinforced to prevent further settling.
As a result, the first project we executed inside the home after purchasing the farm was to reinforce the kitchen foundation.
The team from Archer Contractors delivered pallets of blocks, cement, and concrete.  Over two days they dug new footers and built new walls. The room in the basement is a little smaller now because of the expanded wall depth, but it is certainly built to last!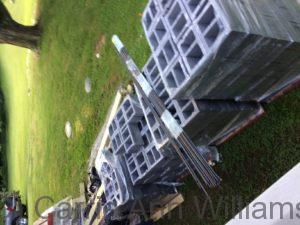 We are proud to have worked with Tarantino Engineering Consultants and  Archer Contractors to complete this project.