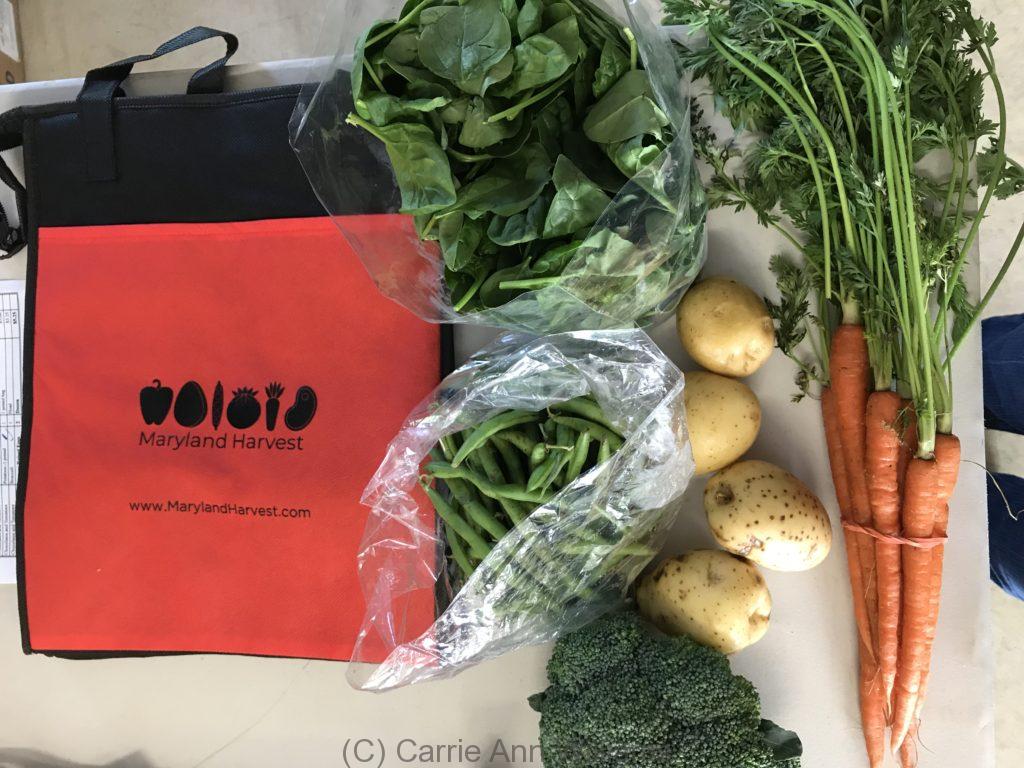 For 2019 we're rethinking the farmer's market and the CSA….
We have partnered with other local farms to form Maryland Harvest – an online marketplace where you can shop from home and place your order each week. Maryland Harvest – Farm Marketplace is new online farm ordering opportunity for conscious eaters to get local, sustainably raised farm products in the Washington, DC area. As a member of Maryland Harvest you are able to join with Montgomery County and Maryland farms to purchase fresh produce and support farms who are committed to producing nutrient dense food in an environmentally sustainable way.
Who we are:
Maryland Harvest is a portal begun by three farms – Your Chef's Table,Willow Spring Farm, and Chocolates and Tomatoes – to connect our community to the produce and the farm products of other Maryland farm partners committed to our same goals of environmental stewardship and community support. We have service every week and so our customers can continue to enjoy local seasonal farm products year round.
How it works:
Each week you can go onto our electronic marketplace and order what you need for the week, including:  Seasonal sustainable vegetables, herbs and mushrooms; Pasture raised meats (beef, lamb, pork, chicken); Pasture raised eggs; and your choice of 3 meal kits ready to make from local farm produce (vegetarian/vegan and meat options – great if you are having a busy week!). Soon we will also offer local dairy products, bulk grains and dried legumes.  
Our goal is to get to the point where we can help you fill your table with seasonal, local and environmentally sustainable products – all delivered to a convenient location for your pick-up.
Each week once your order is placed, we send a message to our local farm partners to pick and prepare your order. We pack it in a central location and then deliver it to you at a pre-arranged pick-up location.  Your order comes to you in an insulated shopping bag to keep it cool and fresh. By using a standard insulated bag, we can use less plastic in our packing. You will select your pre-arranged pick up location and date when you order. If you are on vacation, you don't need to do anything. When you return, login and select the products you need for that week!
Pick up days are scheduled for Saturday, Sunday and Monday. Locations include Urban Institute (Washington, DC), St. Camillus Catholic Church (Silver Spring), Your Chef's Table Farm (Brookeville), and Willow Spring Farm (Ashton).
Next Steps:
Visit the Maryland Harvest Marketplace to set up your account – your payment options, your pick up locations. From here you will log in weekly to select the products you want. Our producers will select your products and pack them for pick up at the location you selected.
The best way to support the local farms is through the Maryland Harvest Marketplace Credit program. In this program, you add market credit by paying ahead of time by check or cash. Then each week at check out, the amount of your order will be subtracted from your market credit. You can add to your market credit at anytime. Because you are partnering with us upfront, we provide you with a 3% additional amount of credit on your purchase. We do this because we want to thank you for your partnership that allows us cash flow when our costs are highest and we avoid credit card and electronic transactions fees. If you do not want to participate in Maryland Harvest marketplace credit program, you can pay directly for you order during checkout with a credit card. 
We are limiting the number of members for this year's marketplace, so do not delay in joining!

Once your membership is activated, you will receive an email with details to set up your marketplace account, instructions for weekly ordering and selecting your pick up location.